Forward-looking: Another study on the effect generative AI will have on jobs has been carried out, and it's a familiar story for white-collar workers: the technology will replace 2.4 million jobs in the US by 2030 and influence 11 million more. The (slightly) good news is that those job losses represent a lower figure than what many others have predicted.
Analyst firm Forrester's 2023 Generative AI Jobs Impact Forecast offers a similar conclusion to IBM's recent study: that while generative AI is going to cost many people their jobs, it will augment more roles than replace them. Forrester notes that 4.5 times more jobs will be "influenced" by the tech, which it defines as reshaping, retraining, and upskilling existing workers to incorporate generative AI tools into the daily workflow.
In the part of the report titled 'Let's Be Clear: Generative AI is Coming After White Collar Jobs,' it's stated that automation and AI overall will replace 4.9% of US jobs by 2030, with generative AI making up 30% (2.4 million) of those lost jobs. The likes of ChatGPT are predicted to replace 90,000 jobs in 2023, representing 9.3% of all jobs lost to automation and AI this year.
As we've heard before, the jobs most at risk of being impacted by generative AI include technical writers, social science researchers, research assistants, proofreaders, and copywriters. Harder-to-automate jobs with high generative AI influence, such as editors, writers, authors and poets, lyricists, and creative writers, are more likely to influence how jobs are conducted (via augmentation) rather than replace them.
Another finding is that the more education a worker has, the higher the influence generative AI will have on their job. Occupations with lower educational requirements like transportation and warehousing, construction, agriculture, and manufacturing will see less job influence, while those requiring bachelor's degrees or higher are going to see the biggest disruption.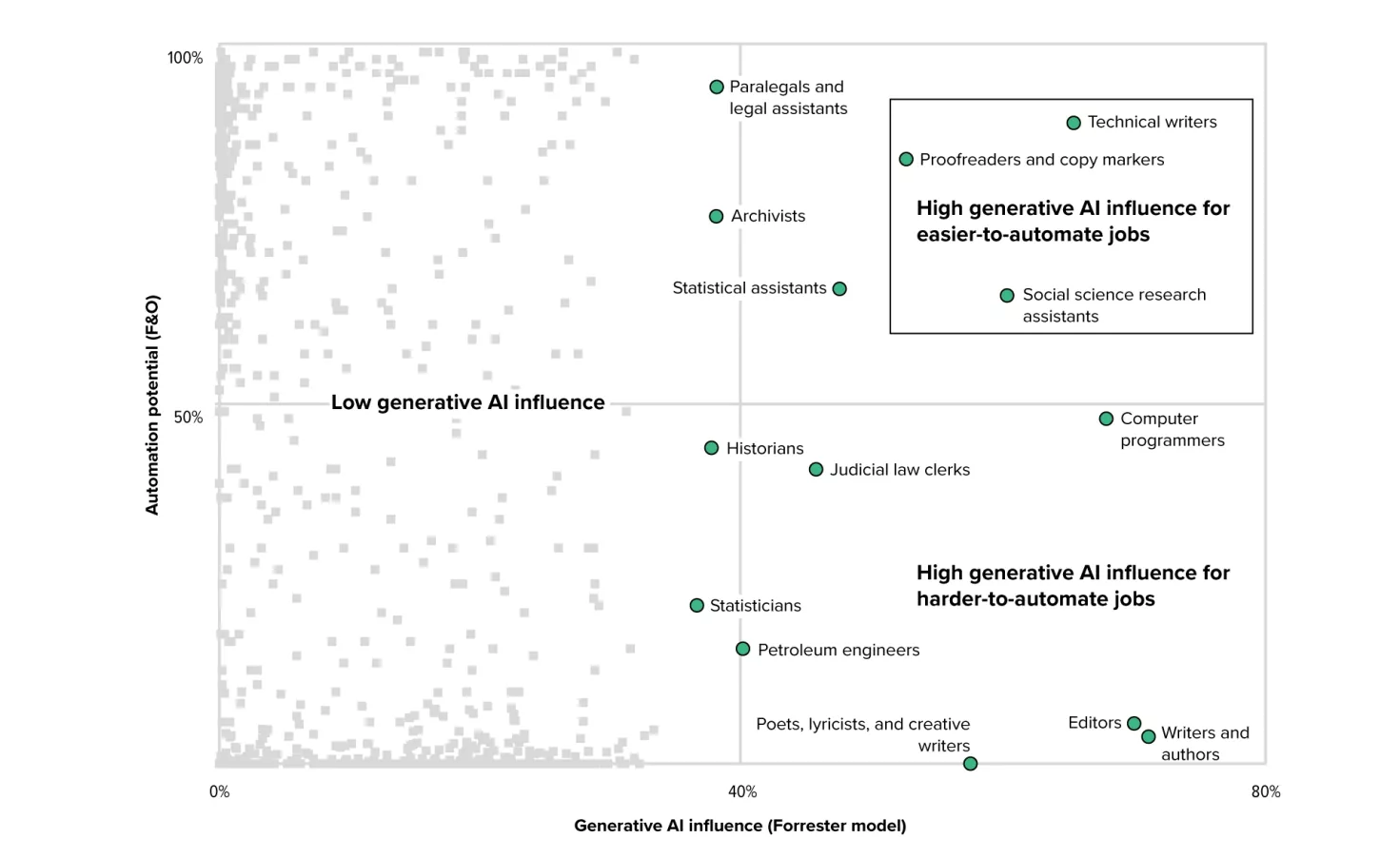 It's a similar trend with wages: workers who earn under $60,000 are going to be less impacted than those earning $90,000 or more.
Job losses from generative AI are expected to be modest over the next couple of years as issues surrounding the tools are addressed, such as intellectual property rights, copyright claims, and plagiarism.
Forrester warns of potential AI roadblocks such as the prospect of generative AI producing "coherent nonsense" and the massive backlash against these systems from the public, as was seen with the Secret Invasion TV show's opening credits and the D&D book illustrations.
One of the earliest studies claimed generative AI could affect 300 million jobs globally. Forrester's conclusion is more optimistic, but it does warn that some workers will lose jobs they need, creating deep social challenges like those faced in the postindustrial Rust Belt. It's no wonder many tech execs are turning to drink and drugs to cope with the stress.