What just happened? More details about Intel's 14th-generation Raptor Lake Refresh chips have landed ahead of the processors' expected launch next month. The latest leaks involve the flagship Core i9-14900K, which has received the highest single-core score in Geekbench. It's also shown up in a CPU-Z benchmark that shows the chip scoring 8% – 10% higher than its predecessor, the Core i9-13900K.
There's already some controversy surrounding the incoming Raptor Lake Refresh CPUs, mostly over reports that the chips could cost 15% more than their predecessors while offering only small performance boosts.
We've seen a number of benchmark results for the Raptor Lake Refresh series leak out over the past few weeks, including this one for the Core i5-14600K. The latest Geekbench benchmarks test the Core i9-14900K, which beats the single-threaded record set by the Core i9-13900KS with a score of 3,140 points. That's a 6% improvement over its 13th-gen equivalent chip and 1% more than the Core i9-13900KS. However, the Core i9-14900K's Geekbench 6 multi-core score is lower than the Core i9-13900KS, the i9-13900K, and the Ryzen 9 7950X3D.
The Core i9-14900K was tested on a Biostar Z790A-Silver motherboard using DDR5-4800 memory and the Balanced power plan, so the chip's scores will likely improve when used with a better setup and when tested using the final retail version of the processor.
Another leak (via VideoCardz) shows the Core i9-14900K being tested on CPU-Z. This one, which confirms the chip's 125W TDP, shows the processor scoring 978 points in the single-core test and 18,117.5 points in multi-core test. That's 9.7% / 8.4% faster than the Core i9-13900K and 19.4% / 59% faster than the Core i9-12900K.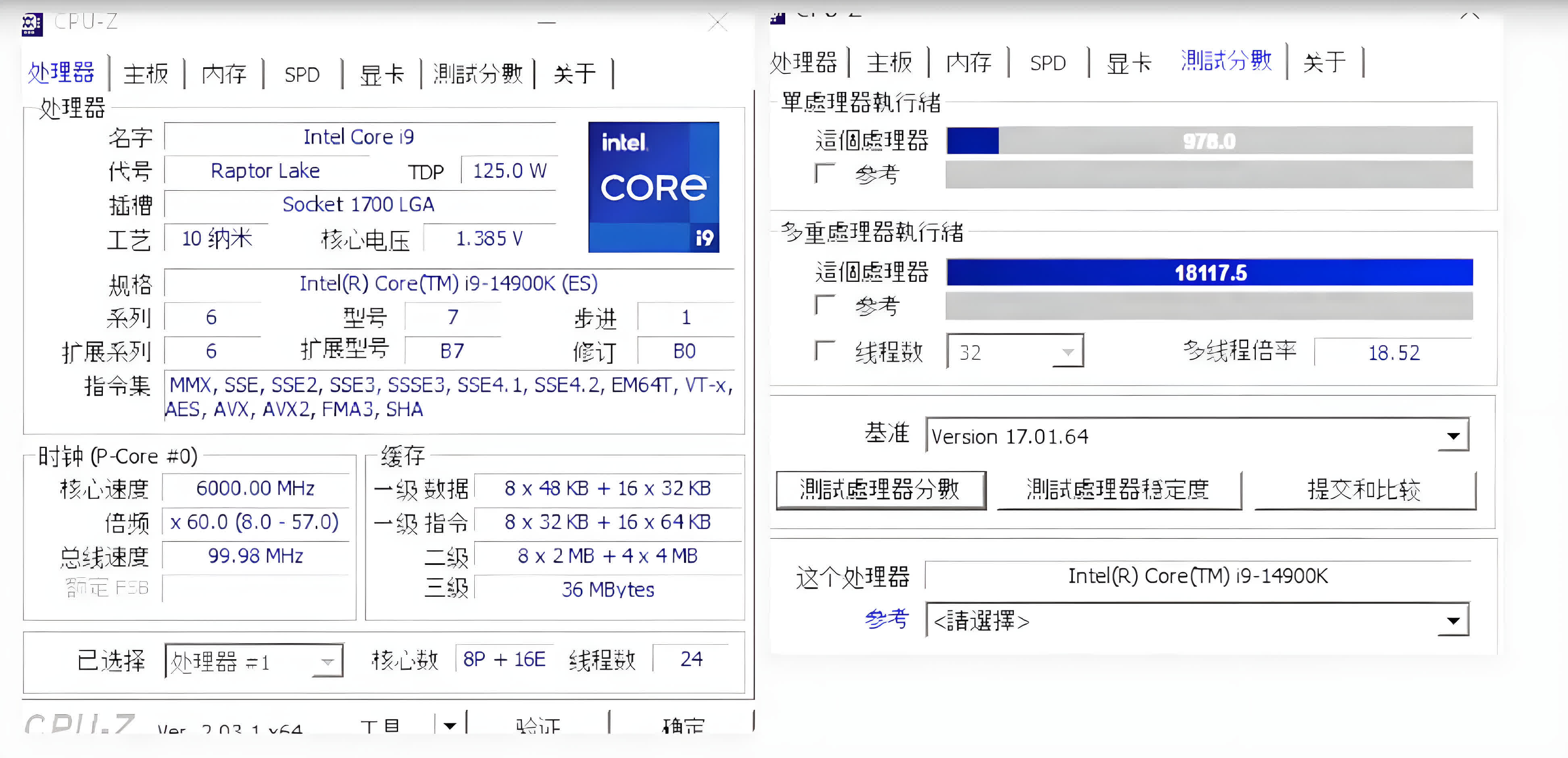 The Core i9-14900K CPU comes with 24 cores made up of 8 P-cores and 16 E-cores, with the former's Thermal Velocity Boost able to push it to 6.0 GHz from the 3.2 GHz base. That marks a 200 MHz frequency increase compared to the Core i9-13900K. It also has 36 MB of Smart Cache. According to a recent leaker, it will have an MSRP of $695, 15.8% more than its predecessor.