Storage requirements for AAA games continue to grow each year. For PC gamers, this may not pose a significant challenge, as fast storage has become increasingly affordable over the past few years. However, for those who play on current-gen consoles, namely the PlayStation 5 and Xbox Series X/S, the situation is a bit more complicated.
The Xbox Series X and Series S both offer a model with a 1TB SSD, of which approximately 800GB is usable for games and apps. The Series S also has a 512GB version, of which 364GB is accessible to the user. Beyond this, both consoles only support running current-gen games from official expansion cards produced by Seagate or WD. Nevertheless, they are capable of playing previous-gen Xbox One games from any USB 3.0 drive and can also transfer current-gen games to and from such drives.
The PlayStation 5 comes with an 825GB SSD, out of which 667GB is reserved for games and apps. In terms of upgradability, it offers slightly more flexibility than the Xbox consoles due to its internal M.2 slot. However, there are still many constraints. Some drives are officially endorsed as PS5-compatible, while others are promoted as such by their respective manufacturers. Similar to the Xbox, the PS5 can play previous-gen games from a USB drive or use the drive for storing current-gen titles.
The PS5 does not accommodate SATA drives, even those with an M.2 form factor. Moreover, it requires that the drive supports PCIe 4.0 speeds and four PCIe lanes – the officially recommended sequential read speed stands at 5,500MB/s. Additionally, the console lacks support for host-memory buffer (HMB). As a result, SSDs without dedicated DRAM may experience longer game load times and a reduced lifespan.
The drive's heatsink dimensions are also strictly limited: up to 25mm wide (a mere 3mm more than the drive itself), up to 2.45mm tall beneath the drive, and up to 8mm tall above it. If you have a compatible drive but an unsuitable heatsink, you can purchase a generic, compatible heatsink for as little as $9.
Whether you're seeking a drive for current-gen Xbox or PlayStation 5 games or an external drive for legacy titles, this guide has got you covered.
Best PlayStation 5 SSDs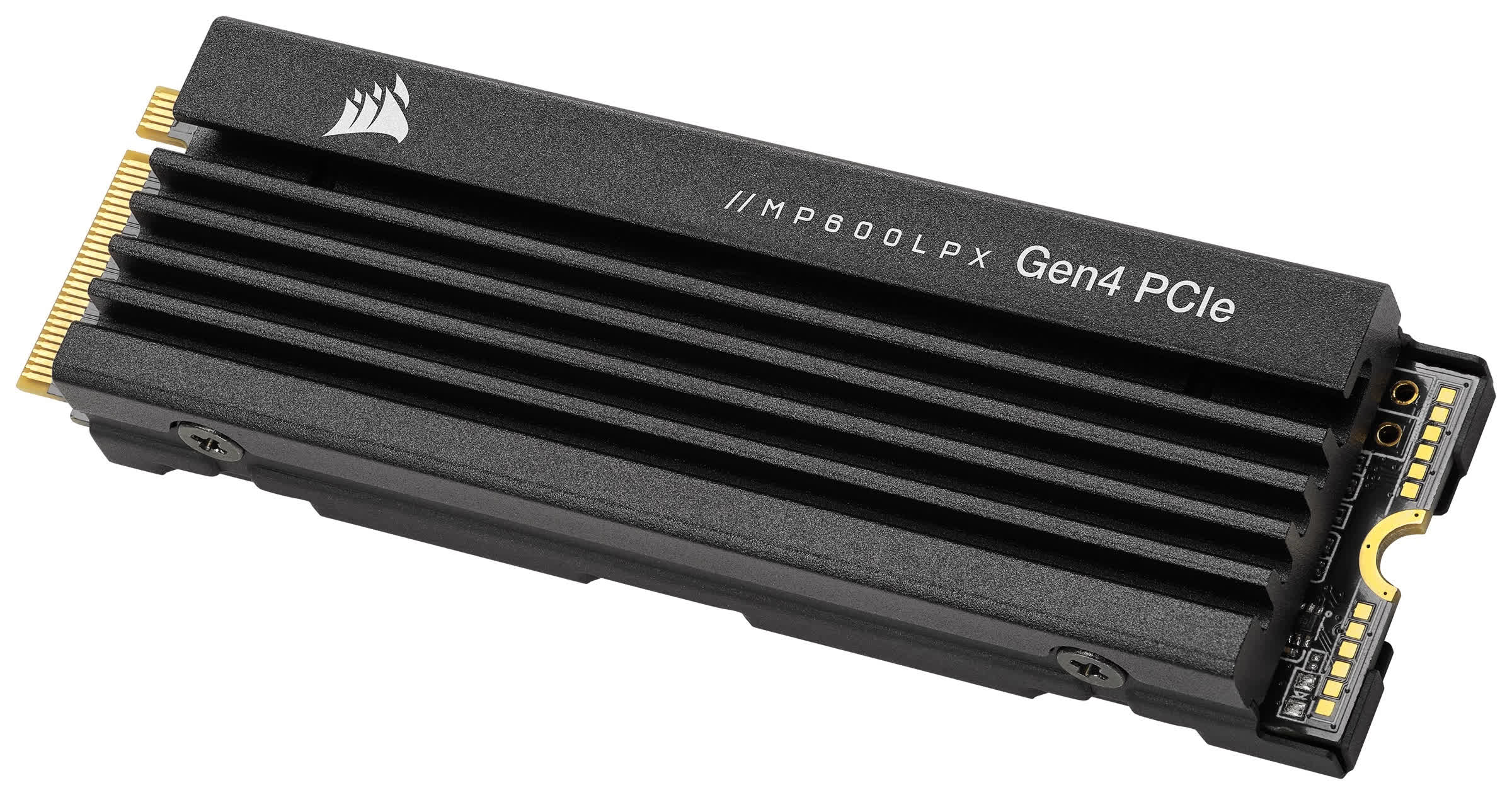 Since you can only add one M.2 drive to the PlayStation 5, you shouldn't try too hard to save money, and should get at least a 2TB drive. Such drives not only offer the best price per GB at the moment, but also the best performance thanks to NAND chips that fully utilize the controller. At this capacity, we believe the Crucial MP600 Pro LPX offers the best combination of price, performance and brand reliability.
The Corsair drive uses the same Micron 176-layer TLC flash and Phison E18 controller as the Seagate FireCuda 530. For a cloud-backed game library, features like Seagate's data recovery services don't justify the higher price. If you find the FireCuda for the same price, go for it.
Another alternative that's usually closer in price is the WD Black SN850X, with better efficiency and marginally faster game load times. It doesn't offer the same sustained writing speed, but the most demanding task we can imagine it undergo inside a PlayStation is copying about 600GB of games from the console's default drive, which will be done in minutes. When copying more than that through a USB 3.1 (or "3.2 gen 2") port, the drive won't be the bottleneck.
In case you were wondering, the SN850P is basically the same drive, with a special heatsink design that allows it to display a bigger PlayStation logo, for more money. On the other hand, the similarly priced and performing SK Hynix P41 and Samsung 990 Pro don't even come with a heatsink.
Xbox Storage Expansion Cards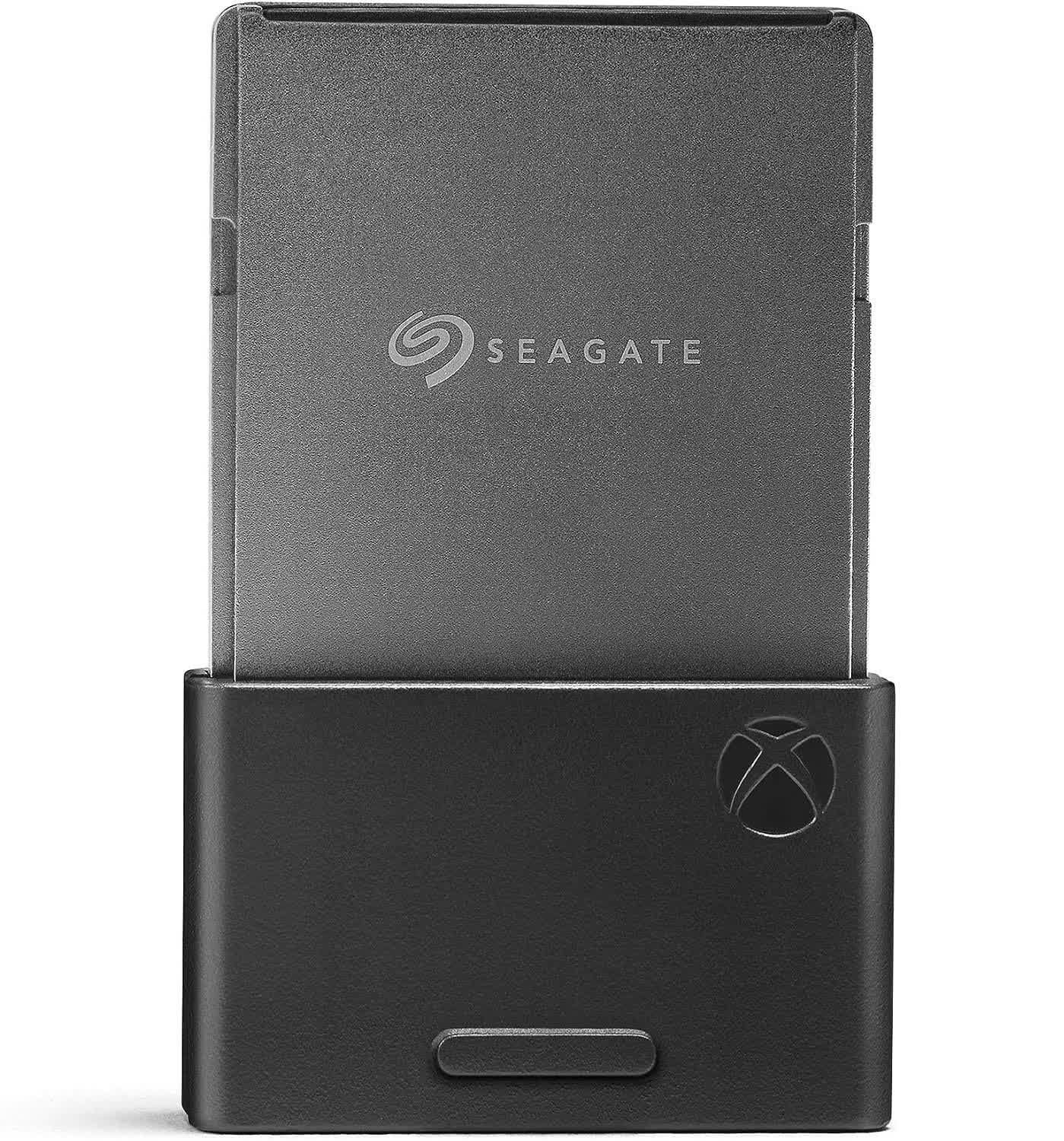 Both the WD Black C50 and the Seagate storage expansion card are designed to do the exact same things.
The main difference is that Seagate already offers a 2TB version, while the C50 is only available at 1TB and 512GB. All capacity options cost almost the same per GB, so you don't have a wrong option.
If you run out of space, you can simply buy another card.
Xbox storage expansion cards are considerably more expensive than M.2 drives per GB, but much easier to install, making the Xbox line in general look like the kid-friendly option, and the PlayStation 5 like the console for power users.
Best External Drive
Xbox One and PlayStation 4 games were designed to run off a spinning disk, but can still enjoy the faster load times of an SSD. The Crucial X9 Pro stands above the crowd thanks to its dedicated DRAM, especially when the drive houses hundreds of GBs. When connected to the PlayStation 5's USB-C port, it can also transfer games from other drives at 1050MB/s, and unlike the prev-gen X8 Pro, never drops much below that speed.
If you want to connect the Crucial X9 Pro to the Xbox, you'll need a USB-C to USB-A adapter and will only be able to transfer games at 400MB/s, but game load times will be indistinguishable. As for durability, the drive is rated for two-meter drop resistance and IP55 water and dust resistance, which are good enough for a drive that will rarely move.
A good alternative is the Samsung T7 Shield, usually available for a similar price per GB. It doesn't have DRAM, but it does have a USB-A connector. It's just as fast as the Crucial drive for data transfers and it's also rated for three-meter drops, IP65 water and dust resistance.
More Storage
If you're looking to download a huge library of previous-gen AAA titles onto a single drive on the cheap, the Western Digital My Book series (offering several TBs of storage) still offers good value. When transferring games into or out of an SSD it will create a significant bottleneck in comparison though, with transfer speeds of about 175MB/s.
If you are willing to sacrifice even more load-time performance for a drive closer in size to an SSD that doesn't need an external power connector, the WD Passport series is a decent solution. Data transfers will only go as fast as 130MB/s though.