Something to look forward to: Intel has been hinting at the next generation of Thunderbolt since last year, pledging to double the bandwidth of Thunderbolt 4 in an upgrade closely resembling USB4 2.0. As they unveil the full details, the company outlines its lofty aspirations for the forthcoming cable standard.
Intel recently announced that developers can start working with Thunderbolt 5 from Q4 2024. As previously disclosed, this next-generation cable specification will support up to 120Gbps of bandwidth in specific scenarios, with the company aiming to greatly expand its range of use cases.
While demonstrating the technology last year, Intel hadn't confirmed its name, simply referring to it as the next-generation Thunderbolt. However, it's now officially named Thunderbolt 5. This decision will make the branding less confusing compared to USB, where significant differences in capabilities exist between USB4 and USB4 2.0.
Under standard operation, Thunderbolt 5 allows for 80Gbps bidirectional transfers, doubling Thunderbolt 4's performance. However, the new specification can also switch to an alternate mode when it detects data-hungry devices, allowing for 120Gbps transmission while receiving at 40Gbps. Intel hasn't finalized the device requirements for the overclocked bandwidth yet. Initially, the 120Gbps mode is limited to cables that are two meters or shorter.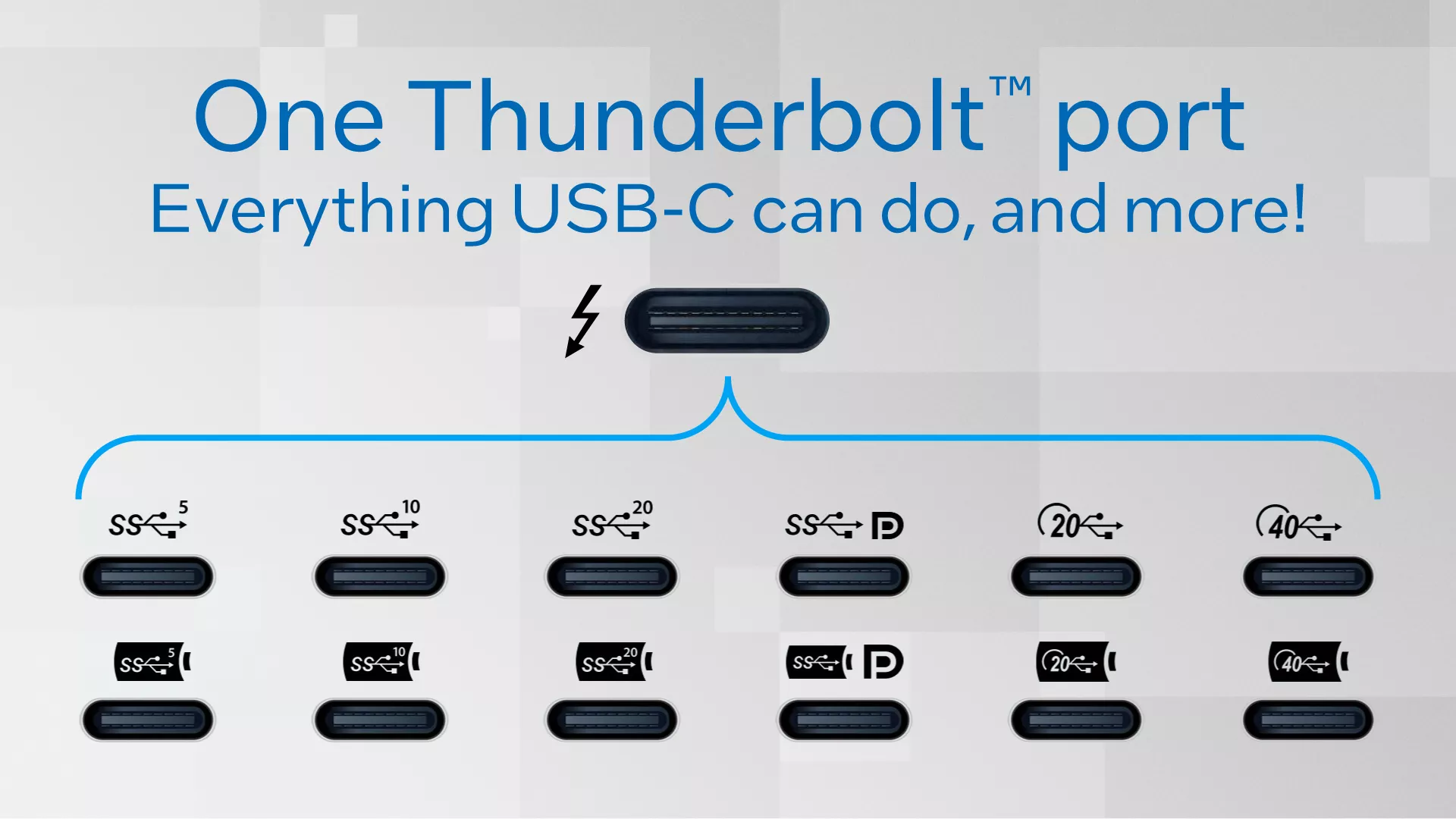 The increased bandwidth of Thunderbolt 5 offers a wider range of connectivity options for storage, displays, and other hardware. While Thunderbolt 4 can connect up to two 4K 60Hz monitors, Intel claims that its successor can handle dual 4K 144Hz screens. The company has also confirmed compatibility with dual 8K monitors without specifying the maximum refresh rate at that resolution. The new standard could theoretically support refresh rates up to 540Hz, depending on the resolution. Furthermore, Thunderbolt 5 supports up to three DisplayPort 2.0 streams.
Intel envisions that this upgrade will encourage gamers to use Thunderbolt for external graphics cards, allowing laptops and other low-end devices to benefit from powerful desktop GPUs. Thunderbolt 5 supports PCIe 4.0 connections, although some PCIe 5.0 devices might exceed its bandwidth.
Power delivery is another area that sees a significant improvement. Thunderbolt 5 can deliver up to 240W to certain devices, compared to the previous standard's 140W, enabling faster charging.
What's more, Thunderbolt 5 is backward compatible with Thunderbolt 4, Thunderbolt 3, USB4, and USB3. Intel anticipates that gamers and content creators will be the earliest adopters, with Thunderbolt 5 devices expected to appear over the next few years, followed by workstation users.